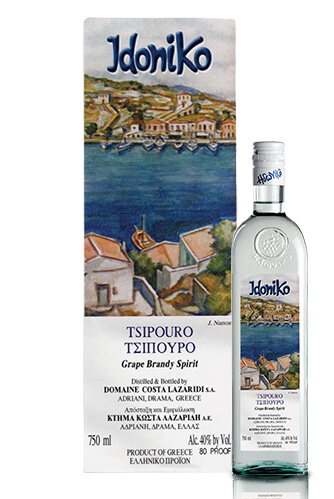 Idoniko Tsipouro
This distinguished genuine liquor is worth of its proud name thanks to the innovative technology of the Estate's ultra-modern distillery. Multiple distillations carried out in copper stills remove all traces unpleasant substances, protecting at the same time the delicate aroma of the spirit. The result is a tsipouro with the fruity character of the carefully selected grape varieties, over a background of orange-tree blossoms, possibly making it the most genuine grappa. Chilled, «without rocks» it warms the feelings.
Alcohol:
40%
Region:
Drama, Greece
Food Pairings:
Even though tsipouro is considered the drink of "freedom" that doesn't obey many rules, one could say that the one without anise is a better match with wintery, meaty mezethes, it is also great however with bottarga and smoked eel. Enjoy it cold, idealy without ice.
Resources
Apply to become a distributor and join our growing list of wholesale partners as we continue our efforts in bringing you high quality products and service.